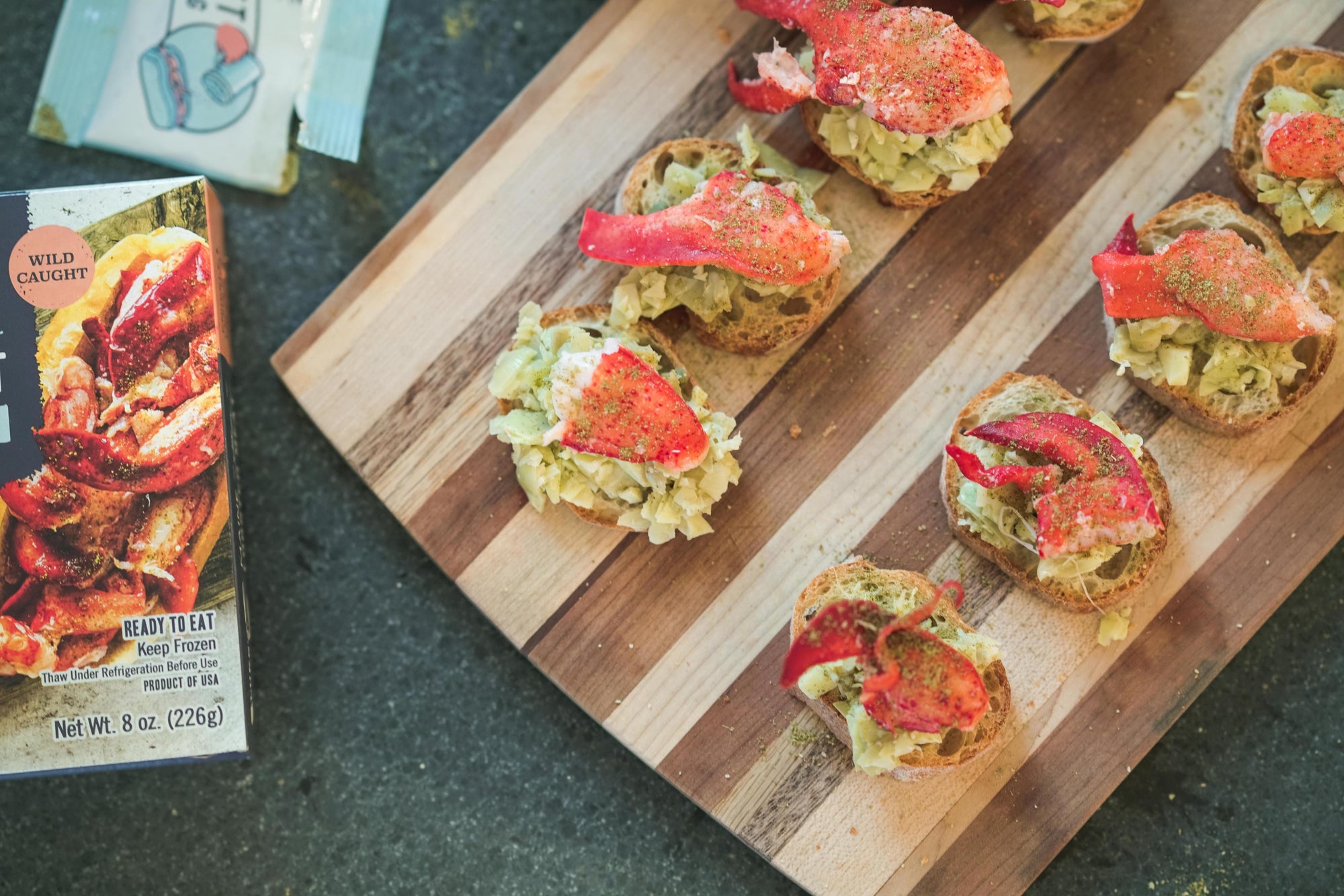 3 Simple Lobster Meat Recipes to Impress Your Guests This Holiday Season
First impressions are everything, and we like to kick off the holiday celebration with a memorable appetizer, which of course involves lobster. Our lobster meat has already been perfectly steamed, and once it's been thawed in your fridge overnight, it's ready to eat and to take your apps to the next level.
We're starting with our Lobster Deviled Eggs, a throwback hors d'oeuvre that's in the spotlight again. We like to add just a small piece of beautiful lobster claw which adds a sweet and luxurious element to deviled eggs. Use your favorite recipe or try ours, but don't forget to add just a pinch of our secret seasoning at the end. 
Another appetizer that couldn't be simpler is our Lobster and Artichoke Crostini. Use artichoke hearts (canned or jarred is perfectly fine here) and add garlic, capers, lemon juice, our secret seasoning, and some salt and pepper, then pulse in a food processor until smooth and fully combined. Butter and toast some baguette slices, then top with a heaping spoonful of the artichoke tapenade and a beautiful piece of lobster knuckle or claw meat. It takes 15 minutes from start to finish, and is an elegant and tasty app for your friends and family. 
Finally, our baked lobster dip has become a team favorite, and while this one requires a bit more prep, it can be prepped in advance right before you cook the dip, so you're free to cook the rest of your holiday meal on the big day.  In this lobster meat recipe, we just fold in mayo, shredded Monterey jack cheese, chives, lemon juice, and our lobster meat into a shallow baking dish. You can stop right there if you're prepping early, or pop it right in the oven for 15 minutes at 375F until it's brown and bubbly, and top with some crunchy potato chips for some texture.
Any of these three
lobster meat
appetizers would make for standout dishes at your holiday party this year. They're simple to prepare, and no one can say no to a lobster canape!