Description
The perfect solution to all your gifting needs: Luke's Lobster E-Gift Cards! Send the gift of local, sustainable, delicious lobster and other delicious, high quality seafood via email - redeemable on our online shop. We offer gift cards in denominations ranging from $50 - $250.
Luke's Lobster gift cards may be redeemed on our online shop, but cannot be redeemed at any of our brick & mortar shack locations.
Gift cards cannot be redeemed for cash.
Please contact retail@lukeslobster.com with any gift card questions.
Shipping
This product will be emailed to either the purchaser or the recipient depending on the information provided!
Hungry eaters love luke's
My First Purchase from Luke's
I thought the process to purchase the card was simple and we look forward to having a great meal soon!
Confusion reigned but it was all good in the end.
I received a gift card at a prize in a silent auction. I was not told nor was it indicated on the card that it can only be used at one of Luke's physical stores and not on the website. however, after talking to a very kind and knowledgeable person from customer service, he was able to transfer that card to an E card, and I was successfully able to use it to order a lobster roll kit which by the way was delicious. In the future perhaps that should be made clear, which cards can be used at the store and which cards can be used Only on the website or better yet have a card that can be used in either place.
Maine Lobsters
My sister-in-law, from Chicago, was delighted to get an E-Gift Card, to purchase Maine Lobsters. Sam, from Luke's, was very informative and was extremely helpful in the transaction. Great Customer Service!
How it works
Select Your Seafood
Select your favorite seafood or gift packs and add to your cart.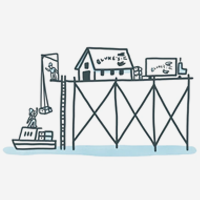 Pick Your Delivery Date
Choose a delivery date, from Tuesday to Saturday. Keep in mind that orders may arrive as late as 9PM.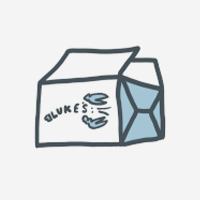 Quick 1-Day Shipping
Seafood arrives 1 day after the order is shipped. Live lobster ships free.
Prepare & Enjoy!
Unbox, prepare, and enjoy a taste of Maine. Frozen seafood will require 16-24 hours to thaw in your refrigerator before preparation.
Online Market FAQs
FAQs
How do I send this to my friend?
Select "Send As A Gift" above instead of "Add to Cart" in order to enter your recipient's e-mail address along with a gift message. You can also choose to print this gift card out for them, or choose to have the gift card sent to them at a later date!
Is this a physical gift card?
This is a virtual gift card redeemable in our Online Market. We do not offer physical gift cards for our Online Market, but we do offer these for our shacks.
Can I send a greeting card with an e-gift card purchase?
Unfortunately no, the greeting cards are only sent with physical shipped orders. The e-gift card is sent via email and will not come with a greeting card if selected at checkout.
Can this be redeemed at a Luke's Shack?
No, this gift card is redeemable only at Luke's Online Market. You can purchase a shack gift card online here.
Seriously. Do you deliver LIVE lobster?
Seriously, we do. They'll arrive fresh from Portland Pier, safe and sound on your doorstep.
How should I store my live lobsters before I cook them?
Refrigerate live lobsters as soon as they arrive! You can put your package directly into your refrigerator, if space allows or transfer them to a lidded pot to store in your fridge. Either way, keep those lobsters cold and cook them within 24 hours! Not sure how to cook live lobster? Check out our instructional video for How to Steam a Lobster.
When will my order arrive?
You will choose your order's arrival date at checkout from a calendar of available delivery dates, up to 4 weeks in advance! The earliest arrival date is generally two days from when you place your order and delivery is generally available Tuesday through Saturday. Your order may arrive as late as 9PM on the date you select, so plan accordingly! For frozen seafood, we recommend choosing an arrival date 2-3 days prior to when you plan to enjoy the seafood. For live lobsters, order for the date of your event or the day before.
We ship to all 50 states and Washington, DC. We are not able to ship live lobsters to Hawaii due to local regulations, but all other products are available! We are not able to ship to Puerto Rico or internationally yet.
Is flash-frozen seafood actually just as good as fresh?
Frozen seafood can be just as good as fresh, and in some cases better, especially if your fresh seafood is going through a long transport or distribution process. Our frozen seafood won't ever be better than truly fresh, but it will be just as good because we freeze it the best possible way. We freeze our lobster in a liquid nitrogen tunnel, the fastest, most high-tech way to freeze in the industry. Lobster meat is very sensitive to freezing and thawing, so to preserve fresh-like sweetness and texture, it needs to be frozen as fast as possible and thawed slowly in your refrigerator for 16-24 hours. We do everything we can to ensure perfectly cooked and expertly frozen seafood and all you have to do is make sure you thaw it nice and slowly in the fridge. Our customers who have tried both our fresh and frozen lobster often say the difference is indistinguishable!
How do I thaw frozen seafood?
Frozen items should be thawed in a refrigerator for 16-24 hours depending on your fridge. Once thawed, lobster meat and crab meat should be enjoyed within 6 days. Raw seafood products, like our lobster tails, should be cooked within 2 days.
What should I make with my seafood?
There are endless possibilities! Visit our recipe page for some ideas from us. Be sure to tag us in your posts @LukesLobster.
OUR PROMISE
At Luke's Lobster, we promise:
To bring you the freshest, best-tasting Maine seafood
To show transparency up and down the food chain
To use our brand to do good for our communities and the environment
We believe that running a business comes with responsibility—to our customers, to our team members, and to the communities in which we operate. We promise to always do our best by you and for you. After all, it's the Maine way.
Our Mission