How To Prepare
Cooking Note:
For pan-searing split lobster tails, we recommend cooking over medium-high heat until meat is no longer translucent and shell is bright red color, approx. 3 minutes per side.
For pan-searing tenderloin steaks, season steaks with salt and pepper, and preheat oven to 400 degrees. Heat skillet over medium high heat, add olive oil and butter. Cook steaks for two mins per side, spooning butter over them while they cook. Bake steaks for 6-10 minutes in oven, using a meat thermometer to determine doneness. Rare: 120-125F, Medium-Rare: 130-135F, Medium: 140-145F.
Check out our simple recipe for Grilled Lobster Tails, and more recipe inspiration at lukeslobster.com/recipes!
Sustainable Sourcing
All of our lobster is sourced off the coast of Maine and Canada using sustainable methods including:
minimum and maximum size restrictions for lobsters
v-notching female egg-bearing lobsters to ensure growth of the population
juvenile vents in lobster traps so small lobsters can come and go
limiting the number of lobster licenses given out and the number of traps per fishermen
Description
Surf and Turf – a classic pairing that makes for a decadent evening at home. We partnered with local Maine favorite Pineland Farms to bring their high quality, responsibly raised beef to the dinner table with our sustainably sourced lobster tails for a delicious meal for two. This pack comes with a two-pack of our 5-6 ounce lobster tails, plus a duo of Pineland Farms 6 oz tenderloin steaks.
Included in pack:
Two Raw, Flash-Frozen, 5-6 oz Luke's Lobster Tails




Two Frozen 6-oz tenderloin steaks from Pineland Farms
Enjoy Maine lobster shipped to your home!
Shipping
A NOTE ABOUT SHIPPING: Due to heightened delivery volume and unexpected weather delays, we recommend placing your order for delivery at least 2-3 days before your occasion to ensure an on-time arrival. Please note, frozen items will need to thaw upon arrival.
This product ships carbon neutral from Maine to all 50 states. We work with UPS to offset 100% of greenhouse gas emissions associated with our shipments by supporting environmental products that reduce carbon and methane in our atmosphere.
We ship overnight to ensure your seafood arrives 1 day after shipping. We offer FREE SHIPPING on all orders, and do not charge an extra fee for Saturday delivery. You will be asked to select your delivery date at checkout. Delivery is available Tuesday through Saturday in most areas. If selecting a Saturday, you will be asked to check your zip code at checkout to confirm availability. Tracking information will be emailed to you when your order ships.
Shipping Pricing:
FREE SHIPPING on ALL orders
See Shipping FAQ for more details.
Hungry Eaters Love Lukes
Perfect!
My husband works out of town and we didn't get to do Valentine's Day. When he got back I made the lobster tails and filets! He couldn't believe how delicious it was and I couldn't agree more!
Excellent management response.
A problem raised concerning delivery of product. I contacted the seller and they immediately answered my email. the problem was solved with in a few hours and package was delivered on time. This all happened late on a Friday afternoon when they were getting ready to close for weekend. Amazing! This was a gift for my brother so I can't comment on taste or freshness. He is going through a rough time right now with his Grandson going through Bone Transplant for Leukemia. When things settle down I will ask him what he thought about product (steak and lobster).
Valentines best
This was excellent. We enjoyed every bite.
How it works
Select Your Seafood
Select your favorite seafood or gift packs and add to your cart.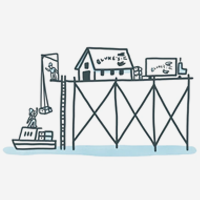 Pick Your Delivery Date
Choose a delivery date, from Tuesday to Saturday. Keep in mind that orders may arrive as late as 9PM.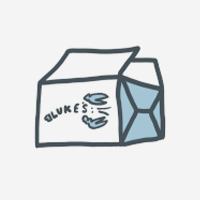 Quick 1-Day Shipping
Seafood arrives 1 day after the order is shipped. Live lobster ships free.
Prepare & Enjoy!
Unbox, prepare, and enjoy a taste of Maine. Frozen seafood will require 16-24 hours to thaw in your refrigerator before preparation.
Online Market FAQs
FAQs
When will my order arrive?
You will choose your order's arrival date at checkout from a calendar of available delivery dates, up to 4 weeks in advance! The earliest arrival date is generally two days from when you place your order and delivery is generally available Tuesday through Saturday. Your order may arrive as late as 9PM on the date you select, so plan accordingly! For frozen seafood, we recommend choosing an arrival date 2-3 days prior to when you plan to enjoy the seafood. For live lobsters, order for the date of your event or the day before.
We ship to all 50 states and Washington, DC . We are not able to ship live lobsters to Hawaii due to local regulations, but all other products are available! We are not able to ship to Puerto Rico or internationally yet.
Is flash-frozen seafood actually just as good as fresh?
Frozen seafood can be just as good as fresh, and in some cases better, especially if your fresh seafood is going through a long transport or distribution process. Our frozen seafood won't ever be better than truly fresh, but it will be just as good because we freeze it the best possible way. We freeze our lobster in a liquid nitrogen tunnel, the fastest, most high-tech way to freeze in the industry. Lobster meat is very sensitive to freezing and thawing, so to preserve fresh-like sweetness and texture, it needs to be frozen as fast as possible and thawed slowly in your refrigerator for 16-24 hours. We do everything we can to ensure perfectly cooked and expertly frozen seafood and all you have to do is make sure you thaw it nice and slowly in the fridge. Our customers who have tried both our fresh and frozen lobster often say the difference is indistinguishable!
Frozen items should be thawed in a refrigerator for 16-24 hours depending on your fridge. Once thawed, lobster meat and crab meat should be enjoyed within 6 days. Raw seafood products, like our lobster tails, should be cooked within 2 days.
OUR PROMISE
At Luke's Lobster, we promise:
To bring you the freshest, best-tasting Maine seafood
To show transparency up and down the food chain
To use our brand to do good for our communities and the environment
We believe that running a business comes with responsibility—to our customers, to our team members, and to the communities in which we operate. We promise to always do our best by you and for you. After all, it's the Maine way.
Our Mission