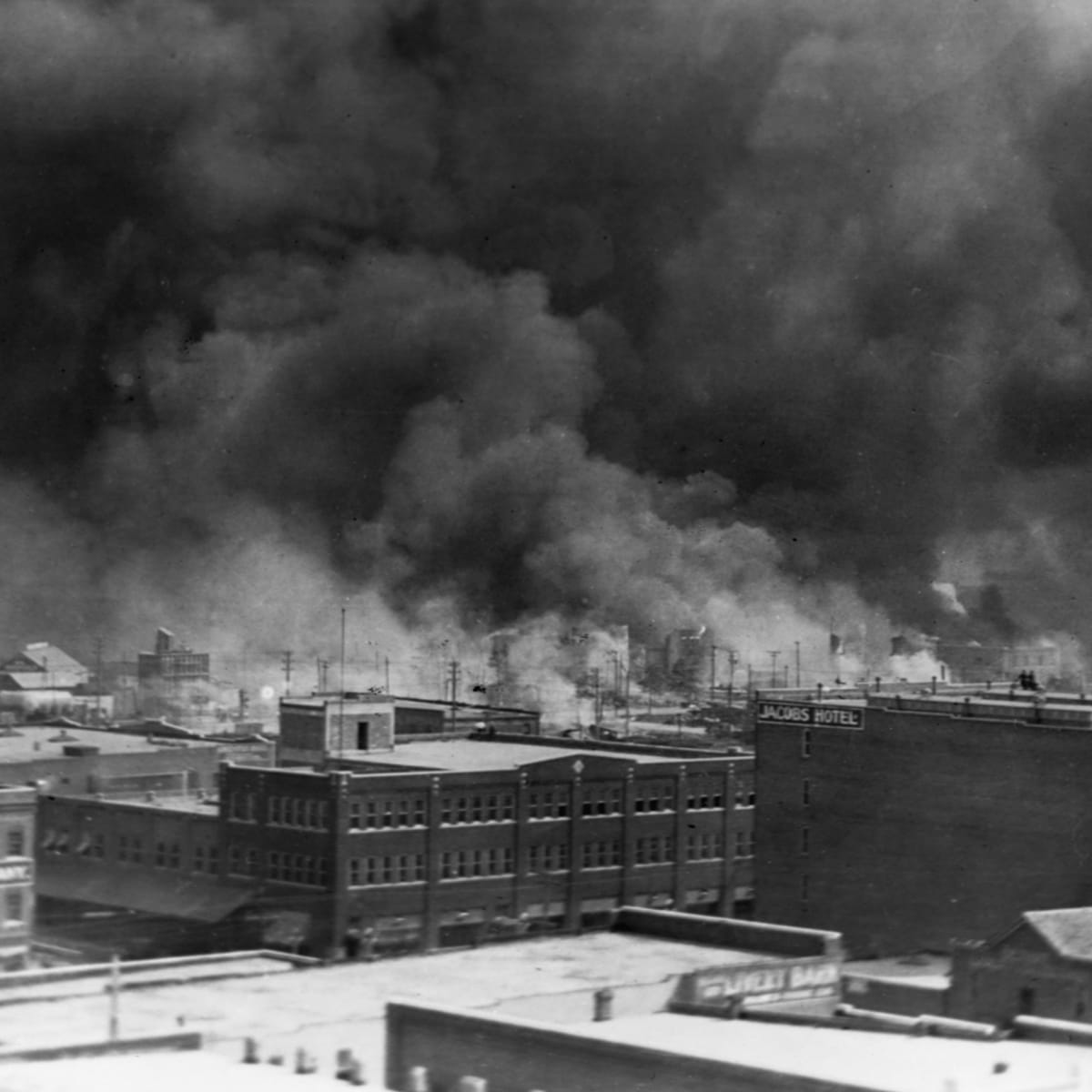 Tulsa Race Massacre
After World War I, the Greenwood neighborhood of Tulsa, Oklahoma emerged as a thriving center of successful Black-owned businesses. With a population of 10,000, the neighborhood boasted beautiful homes, commercial buildings, offices, and churches. It was so prosperous it became known as "Black Wall Street."
On May 31, 1921, what started as a standoff between a white lynch mob and black citizens attempting to protect a wrongly-accused man, turned into an all-out massacre of Greenwood. In the early morning hours of June 1, the white mob burned 35 blocks to the ground, destroying over 1,200 homes, and killing hundreds of people. In 24 hours, this thriving community was reduced to rubble, and its surviving population went from success and comfort to homelessness.
The Tulsa Race Massacre did $1.8 million in direct damage ($27 million in today's dollars).
But the compounding generational wealth that could have come from Black Wall Street's descendants is a much greater loss. And perhaps most devastating was the message this act of terrorism sent to Black entrepreneurs nationwide: that any time Black Americans gained too much wealth or political power, white supremacists would come for their businesses, their homes, and their lives. The chilling effect that this had on Black entrepreneurship across generations, all the way to today, cannot be overstated.
On September 1st 2020 a lawsuit for reparations was filed against the City of Tulsa and multiple other city agencies for negligence during and after the massacre by civil rights attorney Damario Solomon-Simmons. Solomon-Simmons sued under Oklahoma's public nuisance law, saying the actions of the white mob that killed hundreds of Black residents and destroyed what had been the nation's most prosperous Black business district continue to affect the city today, especially living survivors Lessie Benningfield Randle, 107, Viola Fletcher, 107, and Hughes Van Ellis, 101.
During an emotional press conference he stated, "We want them to see justice in their lifetime, I've seen so many survivors die in my 20-plus years working on this issue. I just don't want to see the last three die without justice. That's why time is of the essence."
The lawsuit seeks unspecified punitive damages and calls for the creation of a hospital in north Tulsa, in addition to mental health and education programs and a Tulsa Massacre Victims Compensation Fund. A victory won't be enough to undo the damage of the massacre, but would still be an important moment for the acknowledgment of the massacre and a step towards reparation.
It is more important today than ever that we support BIPOC-owned businesses and end the cycle of underinvestment in communities of color. Below are a few such businesses that we love working with and would love for you to seek out and support:
Harlem Hops is a beer bar in Harlem, NY serving a wide variety of local, innovative beers. They are Manhattan's first 100% African American owned NYC local craft beer bar.
Harlem Hopes is a 501c3 established by Harlem Hops to provide HBCU College Scholarships for permanent residents of Harlem, NY.
Daleview Biscuits and Beer is a Brooklyn-born and South Carolina-inspired restaurant and brewery serving up craft beer, gluten-free buttermilk biscuit sandwiches, and hosting awesome events.
Speakeasy Ales and Lagers, now owned and operated by Hunters Point Brewery, has been brewing small batches of beer in San Francisco since 1997. The brewery started with a single iconic beer, still made today, called Prohibition Ale.
Green Bench Brewing is a brewery in St. Petersburg, FL. In the early 1900s the city was known as the "City of Green Benches" due to their approximately 3,500 green benches lining their sidewalks. For decades these benches served as a gathering place for most, but were off limits to African Americans. Today Green Bench brewing works to "bring a new era of the Green Bench, where the original spirit and purpose of the benches is truly available to all"
The Barrio Fridge is a grass-roots, volunteer-run, community fridge network in Harlem, NY that is open 24 hours a day, seven days a week, and is stocked with fresh fruits, vegetables, non-perishable goods and prepared meals. The food is donated from all over and made freely available to anyone who needs it.
Justice of the Pies is a Chicago-based bakery founded by Maya-Camille Broussard. She started it in honor of her late father who was a criminal defense attorney with a passion for baking. They are committed to delivering amazing pies, quiches and tarts while positively impacting the lives of those who work with them.
Somali Bantu Community Association/Liberation Farms is a community farming program that works to provide new American farmers access to, and culturally-appropriate resources for, sustainable food production for themselves, their families, and their communities.
That said, as a lobster company, we know that diversifying our beverage and dessert suppliers is not enough. We spend over 90% of our dollars on lobster, and need to do our part to overcome systemic barriers in our industry and provide access to BIPOC fishermen and women. As this lobster season gets underway, we'll have exciting developments to share on this work.
For today, we ask that you reflect on the Tulsa Race Massacre not as an individual event, but as representative of the systemic economic suppression people of color have faced and continue to face in America. Learn more about Greenwood and the massacre in this interactive New York Times article from the 100th anniversary of Greenwood's destruction.