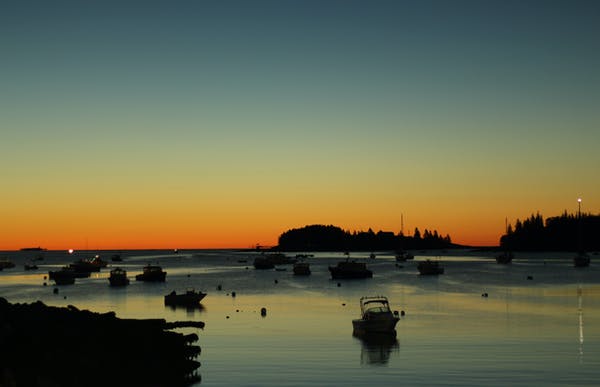 Looking Back on 2020 & Looking Forward to 2021
By co-founder, Ben Conniff
2020 has been a tough year. The pandemic has taken a stunning toll, in loss of life as well as on businesses, families, and individuals. As a seafood company and restaurant group, the obstacles we faced in 2020 were huge. But as a Certified B Corp, we understand that businesses like ours have a responsibility to lead and contribute to the greater good in times of crisis. We committed even more deeply to our social and environmental purpose, and were able to achieve great things in the face of adversity. Here's a quick rundown of the work we did in 2020 to achieve a larger purpose beyond the basics of serving the world's best seafood.
Feeding Those in Need:
COVID-19 exposed so many issues within our society, perhaps none more than the inequitable access to basic needs like food that exists throughout our country--even among those we rely on for our most essential services like hospital and long term care staff. We tackled this issue in our first week of COVID closures, have continued to expand our efforts throughout the year, and will be expanding on them in the future.
We've delivered over

 

2,000 free meals

 

to frontline workers at hospitals, long term care facilities, drug, alcohol, and domestic abuse recovery centers, and homeless shelters in Maine, Boston, New York City, Philadelphia, Washington DC, Miami, and San Francisco.
We've donated over

 

$1,000

 

to Full Plates Full Potential, an organization feeding hungry children in Maine, through our ongoing crab roll donation campaign at our Portland Restaurant.
We also donated excess food and contributed in kind fundraiser prizes for the Good Shepherd Food Bank and Preble Street Resource Center.
In partnership with World Central Kitchen and with help from Hurricane's Soups and Little Leaf Greens, we gave away 700 free meals

 

around election day to remove hunger as an impediment to our most vulnerable citizens exercising their right to vote.
This Christmas we kicked off a partnership with the Barrio Fridge, a mutual aid initiative combating food access disparity in East Harlem by providing free produce and prepared meals to the community, with a 100 lobster cake

 

donation.
Resilience for Fishermen and our Coasts:
While the projects we had planned to fund through our Keeper Fund grants were all put on hold for COVID safety, we stayed true to our longstanding commitment to our coastal environments and communities. 
We began the year with our "What's the Catch" dinner series benefiting the Maine Coast Fishermen's Association, which raised over

 

$2,000

 

for programs like Fishermen Feeding Mainers and Safety at Sea. We've continued to promote their fundraising efforts throughout the year.
As COVID obliterated markets for all types of Maine seafood, we bought and created new markets for

 

four species

 

from Maine fishermen and aquaculturists that we'd never handled before: dayboat scallops, halibut, bluefin tuna, and oysters.
We fundraised and mobilize over

 

$2 million

 

in non-profit grants and loans to build new sales channels and awareness for a diverse range of Maine seafood products, while supporting decarbonization and other sustainability efforts for Maine's marine sector.
We've set aside over

 

$4,200

 

of our own donations as well as

 

$1,000 from our partners at Allagash to support our Keeper Fund grantmaking in the coming year,

 

which will go to non-profit initiatives finding win-wins for our coastal environment and community by tackling aquaculture initiatives, invasive species mitigation, salt marsh health, and ocean acidification.
Social Justice and Racial Equity
While we've always prioritized creating an equitable environment for our own team, this year we both formalized and expanded these efforts internally, and launched major new efforts to achieve social justice beyond our own four walls.
Internally, we created an official Diversity & Inclusion committee within our team that meets regularly to analyze and help improve our policies and diversity metrics within the company, as well as to evaluate and inform our external social justice and equity initiatives.
We provided company-sponsored English as a Second Language training to the immigrant members of our Maine production team, and currently have 15 teammates enrolled and completed

 

884 total lessons.
We launched a preferred purchasing policy to bring more products from black-owned businesses and have so far added

 

four new companies

 

to our suppliers: Liberation Farms in Maine, Green Bench Brewing in Florida, Union Craft Brewing in Maryland, and Speakeasy Brewing in San Francisco. In January we'll meet with our fifth New Roots Cooperative, a Somali Bantu farmer-owned cooperative, to plan crop planting for our restaurant to purchase during summer harvest.
We've donated

 

over $8,000

 

this year to racial equity non-profits including the NAACP Legal Defense Fund, Nibezun, a Maine non-profit working to heal generational trauma in indigenous communities, and the Greater Portland Immigrant Welcome Center, the beneficiary of our ongoing New Maine Food campaign in our Portland restaurant featuring our own New Mainer teammates and their childhood recipes.
Environmental Impact
We recognize that our effect on the environment goes beyond supporting sustainable fishing, aquaculture, and coastal projects. Every action we take also contributes to our carbon footprint and by extension to climate change, which is happening faster in the Gulf of Maine than in any other body of water in the world. So we're focused on reducing our usage and improving our sourcing.
This year we sourced roughly

 

30,000 kwh of energy

 

from renewable sources, which resulted in about

 

25,000 fewer pounds of CO2

 

emitted compared to the national average blend of energy sources.
We replaced traditional lighting throughout our

 

44,000 square foot production facility in Maine with LED lighting.
We launched a

 

carbon footprint analysis

 

with our partners at the Island Institute which will allow us to understand the emissions created throughout our supply chain from the boat to the plate, and then reduce or eliminate them in stepwise fashion. We'll share solutions throughout the marine industry so they can be replicated, and have committed to direct coaching of the docks we source from on decarbonizing (and money-saving) improvements.
As we enter 2021 we see a light at the end of the tunnel, though we know there's still plenty of tunnel left to go. We are committed not just to making it to the other side, but to emerging as a better company and a bigger force for good. We're so proud of the way our team has persevered, held one another up, and supported their communities, all while providing moments of joy and levity with the simple gift of seafood. Here's to a new and better year ahead.