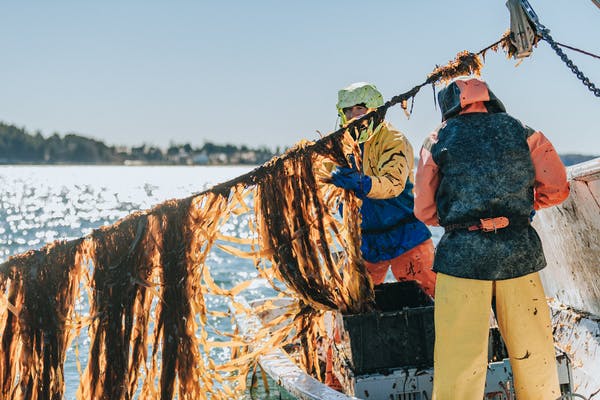 Earth Day at Luke's
Photo by Chris Cary
When we started Luke's Lobster in 2009, environmental sustainability was important to us. But we viewed our impact in narrow terms: making sure all of our seafood was sustainably harvested, with strict regulations to prevent overfishing or ecosystem damage.
Being a certified B Corp, and frankly just a group of conscious humans, we've come to realize that our environmental impact goes way beyond sustainable fishing. Every action we take, and every step in our supply chain, has a direct impact on the world's climate, contributing to wildfires, superstorms, rising sea levels, and in our backyard, the rising temperature and acidity of the Gulf of Maine. So today, we are excited to announce two major strides we're taking right now to address climate change: launching a carbon footprint analysis for our key products, and switching to 100% renewable energy.
Our Carbon Footprint
The first step to mitigating our climate impact is acknowledging it, and understanding it in detail. This morning, as part of our ongoing partnership with the Island Institute, we hired fellow B Corp Council Fire as consultants to undertake a carbon footprint assessment for our key lobster and crab products, with an ultimate goal of assessing our entire organizational footprint. They'll scrutinize not just the Scope 1 and 2 emissions of our operations (basically the fuel we burn and electricity we use), but also the Scope 3 upstream and downstream emissions from our business ecosystem: from catching and processing bait, to fueling lobster boats, to transporting live lobster and cooked lobster meat, to powering restaurants and grocery stores, to air freighting our online market products.
Once we establish our footprint, the next step on our path to Net Zero is to identify hotspots: the points in our supply chain that create the most emissions. This will help us prioritize changes that will most drastically reduce our impact. Some of those will be short term, like using different refrigerants in cooling systems or upgrading outdated equipment in our facilities. Others will take years of diligent collaboration between us, the Island Institute, and the industry, like electrification of truck fleets and someday even fishing vessels.
All that said, we don't have to wait for a full footprint assessment to make changes we know will make a difference, and we have one big change to announce today.
100% Renewable Energy
As of May 1, we will be buying 100% renewable energy (from solar and land-based wind) in every location where we control our electricity. That means our buying stations, our production facility, and most of our restaurants (we'll aggressively lobby the few landlords who control our electricity to make the same change). Conventional electricity is generated in large part by burning fossil fuels. Choosing 100% renewable eliminates those emissions from our business and supports the continued growth and affordability of renewables for all--a goal we need to achieve as a society to stave off the most disastrous consequences of climate change in the future.
Switching to renewables won't slow our efforts to reduce our electricity usage. Even generating renewable energy can have a real environmental and social cost, so efficiency remains important. We're in the midst of a slew of changes from switching to full LED lighting to upgrading our warehouse freezer to minimize usage at times when the grid is busiest. Many more will follow based on the recommendations of our footprint assessment.
Transparency & Teamwork
The goal of this work, and our partnership with the Island Institute, is not Net Zero for Luke's Lobster; it's Net Zero for the lobster industry, then for Maine, and beyond. So we're actively advising and collaborating with fishermen at the shore to make positive changes that reduce their emissions--from energy efficiency upgrades and solar arrays on their buy stations, to fueling their tanks with biodiesel derived from discarded restaurant oil, to eventual electrification.
We've always said we don't want sustainability to be a competitive advantage for us. We want it to be the norm, so we're transparent about how our business works. Our carbon footprint, our hot spots, our plans to reduce and eventually neutralize our emissions--we'll make it all public, and the Island Institute will help us share it up and down the coast. We want our competitors to take what we do today, and beat us to the next step tomorrow. The race against climate change is one we will win or lose together.
Climate change isn't a problem that exists around us; it's a problem we cause. And it's not just an environmental issue, it's a social justice issue--the effects of climate change have a disproportionate negative impact on historically marginalized and underserved communities around the world. This Earth Day, Luke's Lobster is tackling our role in the greatest existential threat to our world, and we ask you--our customers, suppliers, teammates, neighbors, and competitors, to tackle it with us.