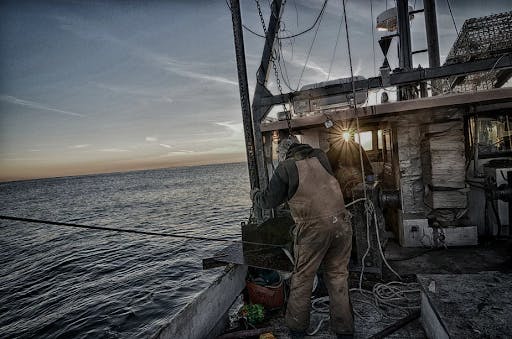 A Few of Our Favorite Things: Giving Tuesday Edition
Photo Credit: Ben Martens for MCFA
For Giving Tuesday, and in collaboration with our friends at the Island Institute, we are launching "A Few of Our Favorite Things," a series highlighting the people, organizations, and places we cherish in Maine. To start this series, we're bringing you three organizations in Maine doing wonderful things for Maine and Mainers.
Maine Coast Fishermen's Association: Fishermen Feeding Mainers 
Maine Fishermen have been feeding communities for generations, now you can join in and help feed those in need. COVID has dried up traditional markets for Maine's groundfish, putting fishermen at risk while at the same time created a wave of food-insecure Mainers. Fishermen Feeding Mainers provides direct financial relief to fishermen by helping them supply food banks, schools, and community groups with high-quality Maine seafood for families in need. 
Maine is already the most vulnerable state in New England, and now close to 20% of our population needs better access to food, especially good quality protein like seafood. Through this program, fish are purchased directly from participating fishermen at a livable wage, which supports their business, crew, the working waterfront, and keeps the supply chain moving when many usual outlets, such as restaurants and cruise ships, are shut down. Local businesses cut and package the fish, supporting crucial shore-side infrastructure and local jobs.  The packaged fish are then donated to the Good Shepherd Food Bank, Cooking for Community, local schools, and other community organizations working to fight hunger in Maine.
Maine Coast Fishermen's Association received a generous donation to start this program, but needs additional funding to meet their goal of 100,000 donated meals. They hope to raise $50,000 by December 31st to continue to support local fishermen, the working waterfront, and feed those in need. MCFA strives to ensure that fishermen have the community infrastructure and environmental resources to maintain Maine's coastal cultural identity and sustain vibrant working waterfronts for this and future generations of Maine fishermen. To contribute, donate here. 
Indigo Arts Alliance -- A place in Maine where freedom of expression and personal transformation through creativity is encouraged. Indigo Arts Alliance embodies a Black-led, multiracial approach to the rich intersections of citizenship, community-building, and creativity. More than ever, our world needs people who can help us imagine more compassionate, generous, and welcoming human societies. Indigo does that work. It is a great gift to the Portland community, to the region, to Maine, and to our nation.
Indigo Arts Alliance is rooted in two principles:
Art is a key resource for healthy human communities. It should be cultivated and celebrated.

Artists play a unique role in strengthening our multiracial democracy. We need their vision and inspiration to help build a more humane, inclusive, and just world.
Co-founded by Daniel and Marcia Minter, Indigo Arts Alliance relies on philanthropy to support artists from across the African Diaspora who are courageously committed to expressing original ideas and thought leadership via their creative practices. The impact of your gift is profound and will make a huge difference in helping grow their artist residency, seminars, and celebrations of Creativity + Courage. If you're interested in donating, visit here. 
MITA: Maine Island Trail Association
The Maine Island Trail is a recreational water trail for boaters. While there are thousands of islands off the coast, the Maine Island Trail is a specific thread of sites. Boaters of all kinds enjoy the Trail - whether they are just going out for the day or spending weeks hopping from island to island. With over 241 coastal sites and islands in 2020, there is something on the Maine Island Trail for everyone. The Maine Island Trail Association (MITA) is a membership organization that administers and stewards the Trail. With memberships starting at $25, folks receive information about island access and use guidelines. To learn more about the Trail and MITA, or to donate, visit mita.org.