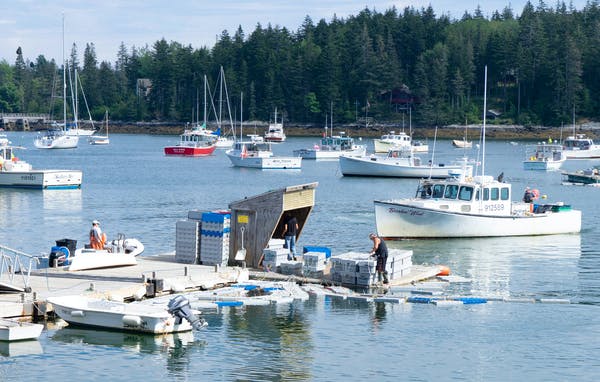 Island Institute and Luke's Lobster Partner to Energize Maine's Marine Economy
September 2020 PORTLAND, ME – The COVID-19 pandemic has challenged Maine's fishermen and coastal communities in an unprecedented way. Diminished demand for Maine's seafood has left Maine's marine economy at risk. The Island Institute and Luke's Lobster have formed a strategic partnership and are leveraging more than $2.5 million in funding and shared financial resources to build new markets for Maine's premium seafood that will drive economic activity in coastal communities.
This partnership has a dual purpose: to build resilience in the seafood supply chain and provide opportunities for Maine's fishermen and aquaculturists. The joint endeavor between Luke's Lobster and the Island Institute is a continuation of a longstanding collaboration; for years, these two entities have worked to strengthen Maine's coastal economies, partnering with fishermen and community leaders to improve resilience along the shore.
Funding will be used to build and diversify the Luke's Lobster e-commerce business, creating a business model built on a commitment to social outcomes and sustainability that others can learn from and replicate across the country. By increasing the availability of lobster, crab, scallops, oysters, and other high quality Maine seafood (both farmed and wild caught), the Island Institute and Luke's seeks to bolster demand for Maine seafood and ensure enduring opportunities for Maine's fishing communities.
"Our response to the pandemic is focused on minimizing potentially catastrophic community and economic disruptions while building resilience in anticipation of future crises," explained Rob Snyder, president of the Island Institute. "Down the peninsulas and out on the islands we have upwards of 60 percent to 70 percent self-employment. One way the Island Institute supports communities is by helping businesses leverage technology like e-commerce, so that they can stay in touch with and reach new customers. The lessons we learn from our partnership with Luke's Lobster will be instrumental in strengthening Maine's coastal businesses, while informing similar efforts around the country."
In a nimble pivot to keep buying from fishermen and bringing seafood to consumers, Luke's Lobster launched its e-commerce platform within days of having to close all but one of its 26 national shacks and its 11 international shacks. Initially the direct-to-consumer platform offered its existing seafood inventory, but quickly added seasonal seafood products with short harvest windows such as Gulf of Maine dayboat scallops and fresh halibut. The success of Luke's Lobster's online platform will be enhanced through this project, bringing additional Maine seafood products to consumers.
Beyond the economic benefit to harvesters and seafood producers, this funding requires meeting broader environmental and social objectives created collaboratively by Island Institute and Luke's Lobster. These metrics include providing technical assistance on clean energy and water quality improvement projects to fishing wharves, B Corp training for businesses considering certification, and reinstatement of funding for several projects through the Luke's Lobster Keeper Fund that were put on hold when COVID hit. The project will also take a deep dive into the decarbonization of the seafood supply chain by gathering data and seeking creative solutions. The shared solutions will enhance the ability of the Island Institute's Tom Glenn Community Impact Fund to combine decarbonization, solar, and other climate projects with Glenn Fund grants and loans to Maine's small businesses. The entire project will be overseen by a five-person national advisory committee which will offer feedback and recommendations on an ongoing basis.
Driving demand for Maine's premium seafood requires demystifying seafood for the American consumer. A considerable focus of this partnership will be to create digital content aimed at educating consumers about the ease and health benefits of preparing seafood at home, as well as telling stories of Maine's fishermen, aquaculturists, and coastal communities. The content production and educational campaign will help ensure Maine's premium seafood stays top of mind with consumers looking for a sustainable, traceable, and healthy protein.
Maine seafood producers, harvesters, or fishermen interested in offering their products on the Luke's Lobster website can apply here. All applicants will be considered through an objective process which includes review by a selection committee made up of two members from Luke's Lobster, two members from the Island Institute, and a member from the Maine Coast Fishermen's Association. All Maine seafood-related businesses are encouraged to apply, regardless of size.
"This is exactly the type of win-win opportunity we look for," said Luke Holden, founder and CEO of Luke's Lobster. "There have been many bumps in the road in 2020 for Luke's Lobster and the Maine seafood community, but this gives a much needed shot in the arm and helps us leap forward rather than falling behind in our mission to bolster coastal economies and have an enduring social and environmental impact. We can't wait to bring a broad selection of Maine's premium seafood to consumers around the country."
Funding for this partnership comes from Silicon Valley Community Foundation, a community foundation with blue economy interests, Luke's Lobster, and the Island Institute.
About the Island Institute
Island Institute is a 37-year-old nonprofit organization, based in Rockland, Maine that works to sustain Maine's island and coastal communities and is committed to a just, resilient, and vibrant future for the coast of Maine. We work in partnership with courageous leaders to support resilient communities and to confront a changing world. The Island Institute's community development work focuses on the following priorities: the marine economy, climate and energy, small business, education, and leadership. For more information, visit islandinstitute.org.
About Luke's Lobster
Founded in 2009, Luke's Lobster is a seafood company and restaurant group dedicated to producing the best tasting seafood, transparently sourced from fishermen committed to sustainability. Luke's Lobster's Saco, Maine-based processing facility buys lobster, crab and other seafood directly from fishermen and works collaboratively with them to return more value to the shore. In 2018, Luke's Lobster became a certified B Corporation, memorializing its long-standing commitment to sustainability and its stakeholders.  Founded by Cape Elizabeth native Luke Holden, who hails from a fishing family, Luke's Lobster has 26 shacks nationally including its flagship location in Portland, Maine and 11 shacks internationally.  Luke's launched several consumer packaged good (CPG) products in 2018 at Whole Foods Market and was named the Whole Foods Market Supplier of the year.  In 2020, Luke's launched an e-commerce platform amid the COVID-19 pandemic, to continue offering guests the best-tasting sustainably sourced seafood in the world.  In addition to its famed lobster and crab products, the e-commerce store offers seasonal seafood such as Maine dayboat scallops and halibut as well as unique gifts, such as a teachers appreciation bundle featuring lobster rolls and apple pie made with Maine apples. For more information, visit lukeslobster.com