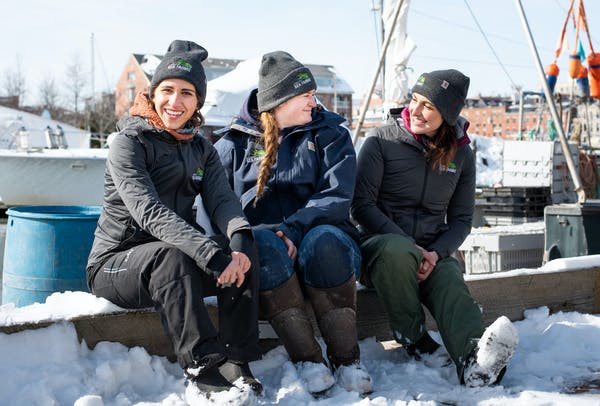 A Few of Our Favorite Things: International Women's Day
Photo by Hannah McGowan
Along with our friends at the Island Institute, we wanted to celebrate International Women's Day by highlighting a few of the courageous, talented, and strong women who have made incredible achievements in our industry. Today we look to the women of Atlantic Sea Farms, Island Institute Marine Scientist Susie Arnold, and environmentalist Amara Ifeji, all of whom are making huge steps for our oceans and our planet. 
Atlantic Sea Farms
If you're not yet familiar with Atlantic Sea Farms, have you been living under a kelp-covered rock? The Saco, ME-based team, led by CEO and President Bri Warner, work tirelessly to make a positive impact on our oceans through their work with kelp in Maine. In addition to Bri, Sales and Marketing Director Jesse Baines, Regional Sales Manager Zoe Croft, Kelp Innovation Specialist Liz Johndrow, and partner kelp farmer Karen Cooper work together to help reduce ocean acidification, and get people to eat kelp! Check out where to buy delicious seaweed here, and stay tuned for more on ASF — we've got some fun plans brewing in the very near future.
Amara Ifeji, Environmentalist
Amara is a young woman from Bangor, who was recently named a National Geographic Young Explorer and one of just 24 young environmentalists recognized for their work on conservation, food insecurity, pollution, and water access around the globe. She was given this recognition in part for her work as Grassroots Development Coordinator at Maine Environmental Education Association where she advocates for intersectional climate justice, equitable access to the outdoors, and empowers youth to make change in their local communities. 
Additionally, Amara serves as a mentor to young environmentalist across Maine, inspiring all those she works with, regardless of age. At only 19, she's already accomplished so much and we look forward to watching her achieve even more in this space.
Susie Arnold, Marine Scientist at Island Institute
As a Marine Scientist at the Island Institute, Susie works on the impacts of climate change and ocean acidification on marine resources and fisheries-dependent communities. In addition to her researching on remediating ocean acidification, she works to help costal communities better understand the impacts of ocean climate change and ultimately what they can do to do adapt.
Her tremendous work with fishermen to diversify their businesses to include shellfish and seaweed aquaculture is invaluable in our communities, as well as her research involving the environmental benefits of farming edible seaweed and helping coastal communities better understand the implications of sea level rise. Susie was recently appointed to the legislative established Ocean Acidification Commission as well as the Maine Climate Council's Scientific and Technical Subcommittee and liaison to the Coastal and Marine Working Group. These leadership roles will further solidify Susie's position as a leader of science and policy in the state of Maine.