How To Prepare
When you receive your raw, frozen scallops store in freezer. When you are ready to eat them, take as many from the bag as needed and thaw under refrigeration until fully thawed (approx 16-24 hours) before preparing.
**Consuming raw or undercooked shellfish may increase your risk of foodborne illness. More information about the safety of consuming raw food is available upon request.**
Description
These incredibly sweet and tender flash-frozen scallops are harvested in cold Gulf of Maine waters. The perfect entree, we love to sear them and add to a pasta or salad! These raw scallops are pure, "dry" scallops, which means they aren't soaked in chemicals or water like the vast majority of scallops on the market.
Two pounds of scallops contains 20-40 scallops.
Enjoy flash-frozen, Gulf of Maine scallops shipped anywhere in the US!
Shipping
A NOTE ABOUT SHIPPING: Due to heightened delivery volume and unexpected weather delays, we recommend placing your order for delivery at least 2-3 days before your occasion to ensure an on-time arrival. Please note, frozen items will need to thaw upon arrival.
This product ships carbon neutral from Maine to all 50 states. We work with UPS to offset 100% of greenhouse gas emissions associated with our shipments by supporting environmental products that reduce carbon and methane in our atmosphere.
We ship overnight to ensure your seafood arrives 1 day after shipping. We offer FREE SHIPPING on all orders, and do not charge an extra fee for Saturday delivery. You will be asked to select your delivery date at checkout. Delivery is available Tuesday through Saturday in most areas. If selecting a Saturday, you will be asked to check your zip code at checkout to confirm availability. Tracking information will be emailed to you when your order ships.
Shipping Pricing:
FREE SHIPPING on ALL orders
See Shipping FAQ for more details.
Hungry Eaters Love Luke's
Luke's has the freshest, tastiest seafood I've ever had. The lobster meat can be used for lobster rolls, scampi, tossed in a tomato garlic and cognac sauce with tarragon with fresh pasta. The scallops are dry shipped (no soaking in chemical solution), and when seared and fabulous with a lemon and white wine sauce.
Exceptionally Delicious
Dry is the way to go… best scallops ever!!!
Great size and cool up great!
How it works
Select Your Seafood
Select your favorite seafood or gift packs and add to your cart.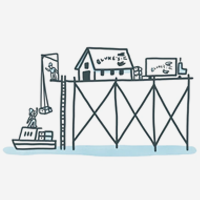 Pick Your Delivery Date
Choose a delivery date, from Tuesday to Saturday. Keep in mind that orders may arrive as late as 9PM.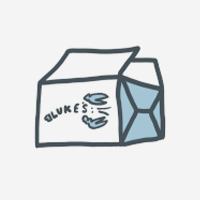 Quick 1-Day Shipping
Seafood arrives 1 day after the order is shipped. Live lobster ships free.
Prepare & Enjoy!
Unbox, prepare, and enjoy a taste of Maine. Frozen seafood will require 16-24 hours to thaw in your refrigerator before preparation.
Online Market FAQs
FAQs
When will my order arrive?
You will choose your order's arrival date at checkout from a calendar of available delivery dates, up to 4 weeks in advance! The earliest arrival date is generally two days from when you place your order and delivery is generally available Tuesday through Saturday. Your order may arrive as late as 9PM on the date you select, so plan accordingly! For frozen seafood, we recommend choosing an arrival date 2-3 days prior to when you plan to enjoy the seafood. For live lobsters, order for the date of your event or the day before.
We ship to all 50 states and Washington, DC. We are not able to ship live lobsters to Hawaii due to local regulations, but all other products are available! We are not able to ship to Puerto Rico or internationally at this time.
Is flash-frozen seafood actually just as good as fresh?
Frozen seafood can be just as good as fresh, and in some cases better, especially if the "fresh seafood" has gone through a long transport or distribution process. We freeze our lobster using a liquid nitrogen tunnel— the fastest, most high-tech way to freeze lobster in the industry. Lobster meat is sensitive to freezing and thawing, so to preserve fresh-like sweetness and texture, it needs to be frozen as fast as possible and thawed slowly in your refrigerator for 16-24 hours. We do everything we can to ensure perfectly cooked and expertly frozen seafood and all you have to do is make sure you thaw it nice and slowly in the fridge. Our customers who have tried both our fresh and frozen lobster often say the difference is indistinguishable!
How do I thaw frozen seafood?
Frozen items should be thawed in a refrigerator for 16-24 hours depending on your fridge. Once thawed, lobster meat and crab meat should be enjoyed within 6 days. Raw seafood products, like our lobster tails, should be cooked within 2 days. *Consuming raw or undercooked meats, poultry, seafood, shellfish, or eggs may increase your risk of food borne illness*
What should I make with my seafood?
Holy mackerel, there are endless possibilities! Visit our recipe page for some ideas from us. Be sure to tag us in your posts @LukesLobster.
OUR PROMISE
At Luke's Lobster, we promise:
To bring you the freshest, best-tasting Maine seafood
To show transparency up and down the food chain
To use our brand to do good for our communities and the environment
We believe that running a business comes with responsibility—to our customers, to our team members, and to the communities in which we operate. We promise to always do our best by you and for you. After all, it's the Maine way.
Our Mission