Catering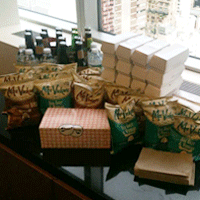 Delivery
Put together an order of $200 or more, and we'll deliver it to your door for no extra charge! Please contact 24 hours in advance to verify availability. We can serve whole rolls or cut them into halves so your guests can sample everything.
On Site Preparation
We'll also happily travel to your event. Our friendly staff can set up shop with everything necessary to serve up lobster, crab, and shrimp rolls fresh off the griddle until everyone at your event has had their fill. Note that there is an additional transit fee and staffing fee.
Venue Rental
Want to host a party with delicious food and great atmosphere? You can rent out our FiDi location in NYC or our Georgetown location in DC for a special event! The FiDi space holds up to 45 people while the Georgetown holds up to 30. Both spaces are able to provide a flexible menu that can accommodate vegetarians. Craft beer and wine options are available at FiDi.
Nauti Food Truck
The Nauti mobile is sure to make a splash at your party when it rolls up curbside. Not only does Nauti offer our complete menu but it is also Zagat's #1 rated food truck in NYC. So don't miss out on this wicked good opportunity.